Nantes carrots
Learning proper harvest timing and technique can help increase yields and ensure you get the best tasting produce from your garden. In this episode, Hilary and Colin talk harvesting methodology. They break down the techniques into five categories to help you make the most of your bounty.
---
HOW TO LISTEN:
Subscribe in iTunes , Stitcher, or any of your favorite podcast players to have new episodes sent directly to your device.

Listen right now in your browser by clicking above.
SHOW NOTES and TERMS:
The Five General Harvesting Methods for Annual Crops:
Cut and come again:

Baby salad greens

Cilantro

Herbs such as: Parsley*, Chives*, Oregano*, Thyme*

Leaf harvesting

Pinching

Basil

Branching flowers such as sweet peas, stock and zinnias

Pulling the entire plant

Carrots

Beets

Kohlrabi

Bulbing onions

Garlic

Head lettuce/Radicchio

Cabbage

Fennel

Picking individual fruit

Picking to increase production

Snap peas

Snap beans

Tomatoes

Tomatillos

Peppers

Eggplant

Picking once plant has died back

Winter squash

Legumes for drying

*Not technically annual crops
The following shows a season-long crop rotation for 1/2 of a 4×8' raised bed. In the first image, the bed is planted in garlic and spring bulbling alliums. In the second image they've been harvested and the space has been re-seeded in beets and bush beans. The third image show's the mature beets and bush beans.
---
Books By Colin McCrate: (Check out Food Grown Right, In Your Backyard for detailed harvesting instructions)
By Colin McCrate, Brad Halm
By Colin McCrate, Brad Halm
---
Like what you hear? Please share our podcast with a friend. Subscribe on iTunes or your favorite podcast player so you never miss a beat. And we'd really appreciate you showing us some love by leaving a rating and review on iTunes.
Have a topic you'd like see us dig in to? Leave us a note in the comment section below or #EBpodcast on Instagram and Twitter!
---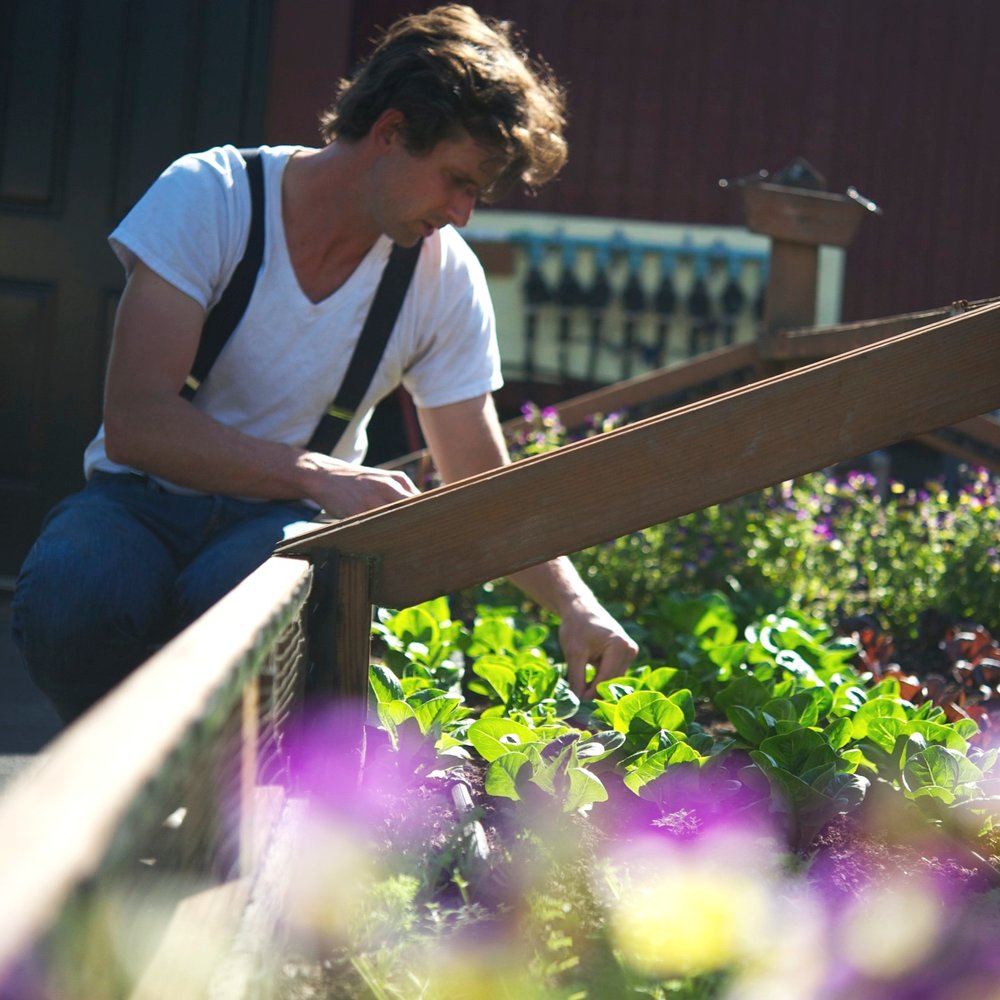 More about this weeks guest expert:
Colin McCrate is the founder of the Seattle Urban Farm Co. He has been growing food organically for over 15 years and has designed and has managed projects ranging from multi-acre farms to small backyard gardens. The author of two books; Food Grown Right, In Your Backyard (Mountaineers Books, 2012) and The High-Yield Garden Planner (Storey Publishing, 2015); and the Seattle Times garden writer. He believes that urban food production can help increase public awareness of environmental, health, and social issues.
---
About the Host:
Hello, I'm Hilary Dahl. Outside of this podcast, my job is to help beginning and experienced growers create beautiful and productive gardens. I have the unique experience of working in on a wide range of projects, from small backyard garden plots to multi-acre vegetable farms. I also work in my own garden every day when I get home. This podcast is an opportunity to discuss seasonal garden topics and share the the joy of growing your own food.
Original source: https://www.seattleurbanfarmco.com/blog/2017/6/16/encyclopedia-botanica-podcast-episode-58-3b9n3-8gbz3-289s6-36t7g-874zj-78p5k-ke3ss-srdn2-cygb5-dtnr5-at9yd-zd47a-n8fcb-tsd23-rtaj8-n3228-8r86x-ydgl4-a4g8e-2kdzh-za6tk-emfkj-afjst